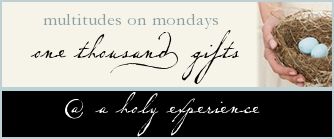 I get distracted sometimes. Life makes bumps and I try to hold on and feel over run by pressures and somewhere along the way I realize that I've lost something. I've forgotten about the trees because I've been looking at the forest too long, forgotten that violets grow in unexpected places and that birds find shelter in branches over head. I've forgotten that I live for little moments. I need them to keep perspective.
We all have hard times and bad days, and yet every day has something beautiful in it, waiting to be discovered, that will remind us that we have good days and good times, too. If I focus on this, everything comes back to its proper place in the picture of life, and I can sing, because behind those clouds the sun is still shining.
So, when life feels overwhelming, for the past few years I've been learning to stop, and remember  little moments. Moments like the times that we laughed at clouds and took silly pictures together, the times I ran in the rain just to get wet like I use to, the time we skipped rocks, and the time Scott fell into a creek hidden under the snow and I laughed and almost fell in too. Times I stood on a mountain top and felt like I was on the top of the world, or when we stood together at the beginning of love in the top of the great arch and he told me that he loved me, or remembering the day we met. It is hearing my niece squeal when she realizes we're going wading in the creek, and feeling her little hand hold onto mine, trusting that I won't let go, even if she falls. It is chasing lightning bugs and watching tiny humming birds flying in the downpour of a bad thunderstorm. It is these gifts of moments that I live for, and that keep me going when times are hard. And when I remember these things, I feel that the years I've spent looking, focusing on the good are not for nothing. And the gratitude overflows, time and time again.
counting gifts
281. finally selling the laptop
282. talking towards plan c
283. a broken laptop cord that somehow holds on
284. strawberry shortcake
285. milestones in our love story
286. dreams to live on
287. unexpected odd jobs to earn a little money
288. cool days to make it easier to sleep at night
289. chasing lightn'in bugs
290. water droplets sparkling like gems on poplar leaves after a storm
291. reflections of boats on the lake
292. baby ducks
293. watching clouds together